COMMUNITY BUILDING
Incubate Academy
This is a lecture event on VC for university and graduate students. The VC industry is not well known among students, and the influx of talent into the VC industry is very limited. We will share the experience and knowledge that Incubate Fund has accumulated as a seed VC in order to share our aspiration to solve major social and industrial issues and create the next industry from scratch. We are looking forward to the challenge of young talents.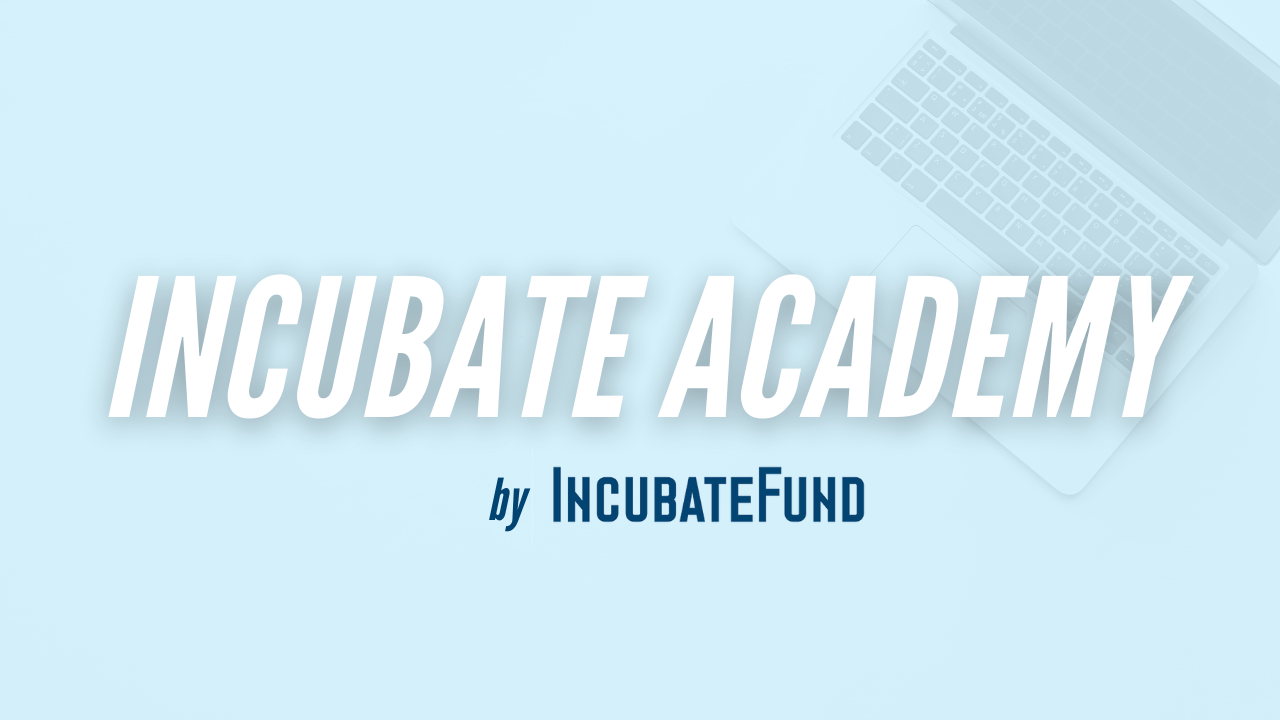 outline
Activities
A total of 13 VC associates and analysts, including 7 GPs at seed VCs, will provide an opportunity to learn about VC from various angles, including information on VC as a career, trends in domestic and international VC/startups, and case studies on past investments.

[This time it's being held for 24 graduates!

Date & Time: May 30 & 31, and June 6, 7 & 8, 18:30 - 21:00
Location: ARK Hills
Application deadline: Friday, May 20, 23:59
Selection:Entry→interview→notification of results

*The secretariat will contact you individually regarding the results.
*Early applicants will be selected in order of preference and notified of acceptance or rejection.

*In view of the impact of the spread of coronavirus infection, the event may be held online. Please understand this in advance.

Approximately 40 people are expected to participate.
Continuously manage the community even after the event is over

Lecture contents
Monday, May 30: Toru Akaura ✖️Yusuke Murata "Past Progress and Future Prospects of VC in Japan
Tuesday, May 31: Keisuke Wada, "Venture Capitalist in Practice
Monday, June 6: Hiroshi Sasaki ✖️Yasunari Shibata "Unraveling the Relationship between Entrepreneurs and Venture Capitalists"
Tuesday, June 7: Masahiko Homma ✖️Paul McNerney, "Trends in Overseas VC and Startups"
Wednesday, June 8: Part 1: Incubate Fund's first batch of new graduates "Roundtable Discussion with Newly Graduated VCs"
Part 2: Overview of the 3-month practical program & Q&A session

Application Requirements
Undergraduate and graduate students who are looking for a job after graduation 24 and who are able to attend all days on the above dates.
You want results and are passionate about something.
No grade or literature required.

STEP01 Apply for the form (Deadline: Friday, 2022/5/20 23:59)

Please click on the "Application Form" at the bottom of this page.

STEP02. document screening

The secretariat will contact you individually regarding the results of the selection process.

STEP03. interview (i.e. television, newspaper, etc.)

You will be interviewed if necessary. (In person or via web)