NEWS
Launch of the IF Student Investment Program, an investment program exclusively for students
unclassified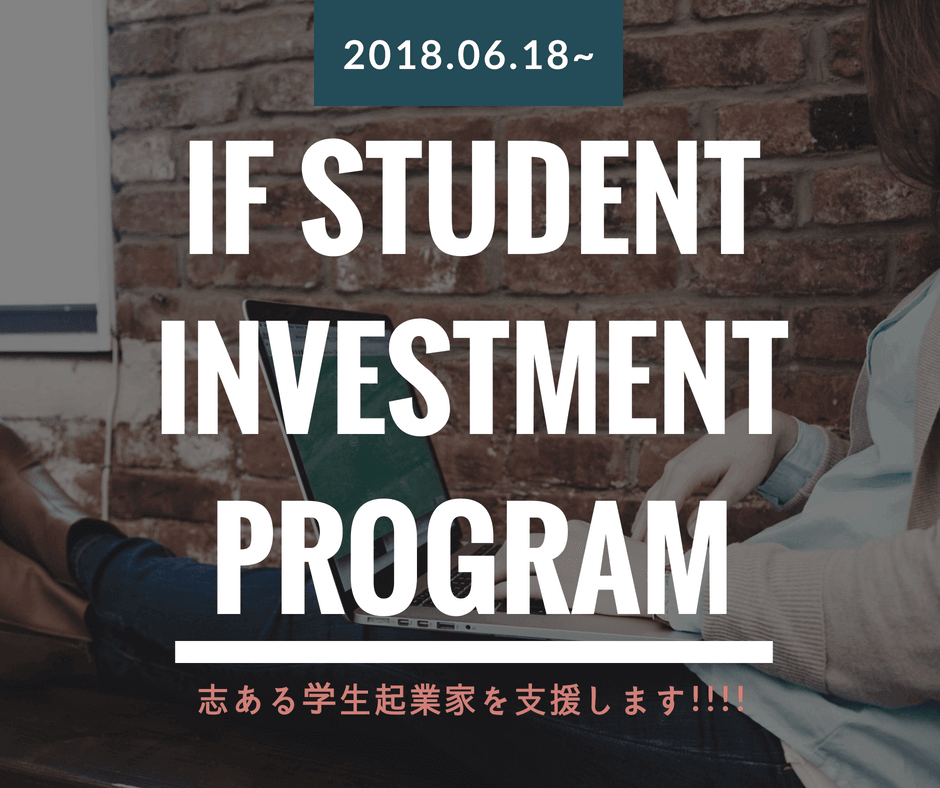 Incubate Fund will start "IF Student Investment Program" which is an investment program only for students. We would like to support the challenge of aspiring student entrepreneurs as a venture capital specializing in investment and development in the early stage of business. We plan to invest in a total of 10 companies by the end of September, about three months from today, June 18. We invite you to apply.
■Name
"IF Student Investment Program.
Recruitment Summary
We plan to invest in a total of 10 companies between today, June 18, and September 30, 2018.
(Applications may be cancelled when the total number of companies reaches 10.
Investment Summary
Investment amount: 1 million yen
Scheme 1: Investment in the same class of shares as at the time of the most recent fundraising
→Assumes that the company has already raised funds
Scheme 2: Investment in convertible bonds with stock acquisition rights (CBs)
Conversion conditions: Converted to the same class of shares at the next fundraising with the relevant valuation, no cap and no discount
Interest rate on bonds: No interest
Joint guarantee: No
→Assumes a company that has not yet raised funds (including before incorporation)
Required Documents
Company Information
Certificate of enrollment
■ Target
Students preparing to start a business or in the process of starting a business (current students at graduate school, university, high school, technical college, etc.)
■Process
Please apply from the entry form below.
URL:.
https://docs.google.com/forms/d/e/1FAIpQLSdTMpM4JCYA5Ww1aZ53E66b7jAcwkJNH6KrqZQ5CHjQMmnVkw/viewform
Applicants who pass the document screening will be contacted individually.
——————————————————————————————————-
Incubate Fund also runs the following programs on a regular basis. "We hope that you will consider applying for the IF Student Investment Program as well.
Incubate Camp 9/14 Fri & 15 Sat (two-day program)
https://peraichi.com/landing_pages/view/incubatecamp11th
An event that brings together prominent Japanese capitalists to provide funding opportunities for entrepreneurs.
Approximately 190 entrepreneurs have participated in the past 10 events.
Recommended for entrepreneurs who plan to raise tens to hundreds of millions of yen regardless of stage
Circuit Meeting held every other month (half-day event)
http://incubatefund.com/circuit-meeting
A half-day event for seed/early stage entrepreneurs to make investment decisions.
Nearly 10 capitalists from incubate funds and partner funds participated.
Recommended for entrepreneurs who are considering financing in the near future.
Meet Up monthly (weekday evening networking)
http://incubatefund.com/meetup
Anyway, it is an event to meet the members of the incubate fund casually.
If you would like to discuss your business individually, we can discuss it in a 1-on-1 session.
Recommended for entrepreneurs who want to talk with a capitalist in a casual setting.
問い合わせなどはinfo@incubatefund.comまでご連絡下さい.
the end