NEWS
Saturday, November 23, 1-5pm] Startup Open Day 2019 Autumn - 3 hours to experience startups beyond the boundaries of your company.
unclassified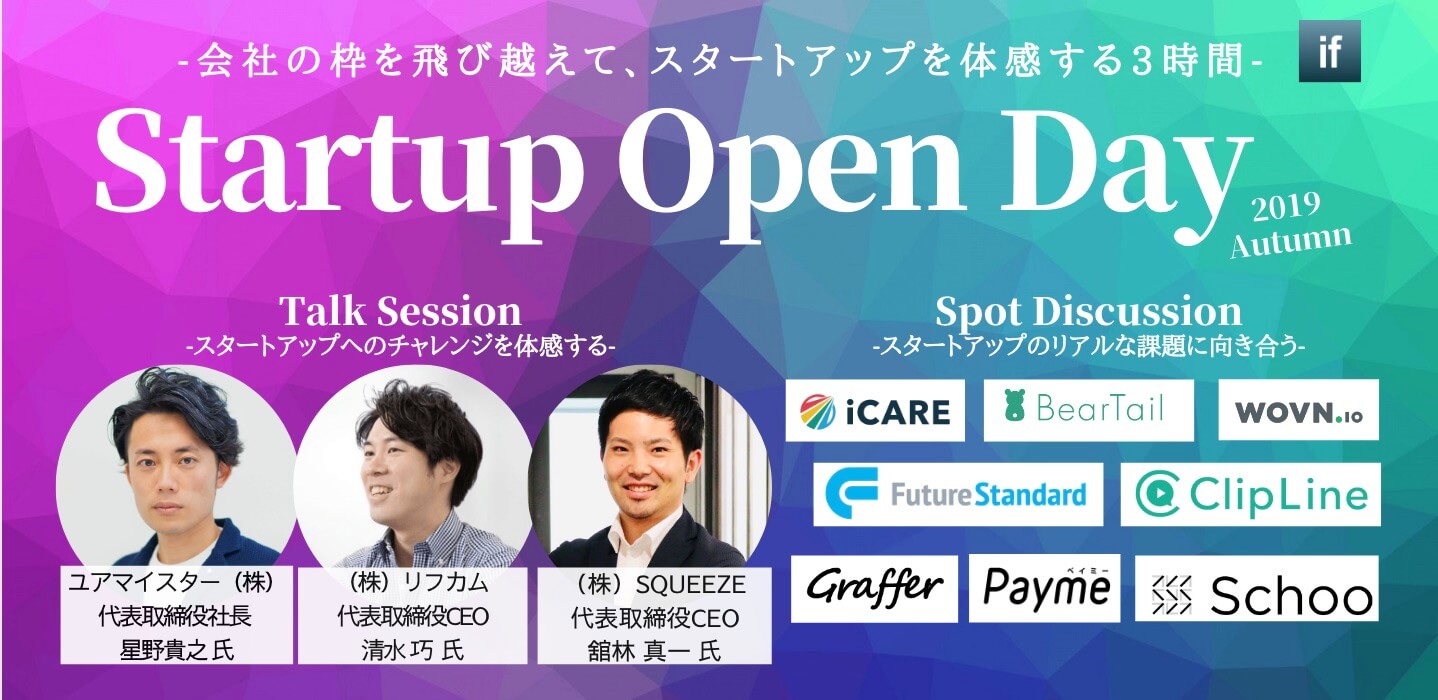 It has been almost a year since Incubate Fund released the IF Talent Network last November.
Thanks to your support, we have received many registrations.
This is an opportunity for IF Talent Network members to meet each other in person.
We have been conducting individual interviews and small group discussion projects (IF Open Hour) on a daily basis.
This time, in commemoration of IF Talent Network's first anniversary
To accelerate the creation of contacts between VCs, portfolio companies and individuals
We are pleased to announce IF Talent Nework's first cross-sectional real event, Startup Open Day 2019 Autumn.
In the past, we have met with a small group of individuals or one startup company.
This time, we invited several start-up companies supported by the incubate fund to
This is an opportunity to get to know a wide range of people working at startups in a casual setting.
In the first half, people who were active in major/mega ventures such as Goldman Sachs, Sansan and Rakuten
Why did you leave your career behind to jump into the startup world?
A panel discussion will be held to get a closer look at the reality of the situation.
In the second half, we invited eight startups to
A workshop will be held to discuss the real business issues of each company with participants on the spot.
The real business challenges of startups, which are never mentioned in articles and other media or at regular events.
If you want to see how much of your experience and knowledge can be applied to a startup, this is the project for you.
At the end of the event, we will have a chance to interact with the startups, our incubate fund, and the participants.
A reception will be held.
We hope this will be an opportunity for casual socializing over drinks and snacks.
If you are interested in startups and entrepreneurship, please come and join us.
▼ Entry Page
https://startup-openday.peatix.com/view